Surface treatment by ion implantation (hardion™)

Lifetime of mechanical parts can be significantly increased thanks to hardion™ by idonus, an innovative technology that performs surface treatment by ion implantation. Our process enables the hardening of parts, it can also significantly improve metal resistance to corrosion, decrease friction losses, or tune the hydrophilicity of glass, to give only a few benefits. Countless applications can now be envisioned at a competitive cost for a wide range of materials. Our technology and installation are perfectly suited for the treatment of small and medium-sized parts like those found in mechanical wristwatches or in medical implants.
---
God created the bulk, and the devil its surface.*

— Wolfgang Pauli
[Nobel Prize in Physics 1945]

* Gott schuf das Volumen, der Teufel die Oberfläche.
---
The nature and characteristics of an object surface are of equal importance with respect to its bulk properties. This statement becomes obvious when one thinks, for instance, of wear or corrosion. Whether for functional or for esthetic purpose, surface treatment is of prior concern and a crucial step in the fabrication of industrial parts.
---
Downloads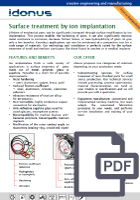 Ion implantation
: Download our flyer on surface treatment (
PDF
).